Happy Tape
If you haven't - you will now.
I've been thinking about ordering something from
Happy Tape
, but there's just one tiny problem. I can't figure out what set to buy. There are just so many choices to select from that I can't make a decision. Does that ever happen to you? You walk into a shop or an online shop and you love everything and you just can't pick which one you want. In my youth, I used to be able to buy just about anything because I was more carefree and had less responsibility, so I would just solve the problem by buying double. Sometimes, I'd buy the same pair of shoes or piece of clothing in different colours. But, now I'm older and a little wiser, and budget conscious. So which set of Happy Tape to buy? ZA! It's too difficult.
I just love the name of their shop -

Happy Tape

. It really does make me happy looking at the pretty and colourful assortment of tapes. The tapes below are just a few from their shop. You can buy them in singles, pairs, multi-packs, and jumbo-packs. Aren't they just lovely? I can use the tape for pretty packages and clothes pegs, but I know that if I use my imagination I can come up with a gzillion ideas. Their blog also shows some different ways to use the tape.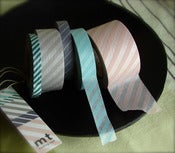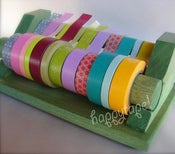 Help me - which one?